TESTIMONIALS
"We love their delicious freshly made sandwiches, wraps,salads and cakes."
Maggies Centers
"From large corporate events to simple team lunches the service is always exceptional and food is prepared to the best possible standard."
Sweaty Betty
For more information and a quote, please get in touch.
info@cafeplum.com
Sandwich platters
Below is a selection of some of our most popular sandwiches. Some sandwiches may not always be available but we will do our best to accommodate individual request.
Sandwiches are made on freshly baked ciabatta.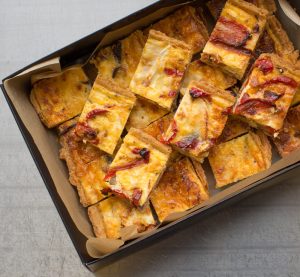 Sandwiches
Coronation chicken Chicken breast with mild curried mayonnaise, slow roast tomato and lettuce.
Classic club Breast of chicken, crispy bacon, mayonnaise and tomato.
Roman  Mozzarella with fresh basil, tomato and olive oil.
Chicken & pesto chicken breast with sun dried tomato pesto and wild rocket.
Chicken Caesar   Chicken breast with caesar dressing, shaved parmesan cheese and lettuce.
Salmon & avocado Oak smoked salmon with avocado and wild rocket .
Salmon  Oak smoked salmon with cream cheese
Tuna   Tuna mayonnaise, with cucumber
Ham & Dijon  Smoked ham with Dijon mustard and slow roast tomato.
Vegetarian club  Homous with red and yellow peppers and baby spinach
Ploughmans  Mature cheddar with Branston pickle, tomato and lettuce.
Feta  Feta cheese with basil pesto and slow roast tomato.
Sausage  Cumberland sausage with onion marmalade, English mustard and Heinz ketchup.
Mozzarella Mozzarella, green pesto and roast peppers.
4.50 – 5.00 per head

Salads
Chicken club salad   (GF)
Falafel and homous salad  (vegan, GF)
Red pesto pasta salad
Grilled Halloumi salad  (GF)
Quinoa salad (GF, vegan)
Greek salad (GF)
All served with our balsamic vinaigrette.
7.95 per head individually or 6.95 per head in large sharing bowls (min 4)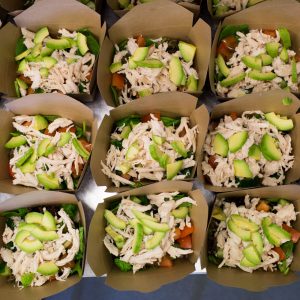 Fruit
Individual paper cups of fresh seasonal fruit salad served with a cocktail stick for ease, or a fruit bowl with a selection of seasonal fruits.
3.25 per head
Cakes
Cakes made by Poppy, our chef, using free range eggs. Cakes will be cut to finger food size portions. The selection includes; banana cake, carrot cake, chocolate brownies, lemon drizzle, marble cake, apple and cinnamon cake.
£2.75 per head